Earlier this week, the University of Iowa and Iowa State University announced an extension to their football series that will continue the annual game through the 2023 football season. The Hawkeyes and Cyclones have played annually since 1977. It will be 46 years of continual games when this version of the contract finishes. The question becomes what is the future of the rivalry?
Both Iowa State in the Big 12 and now Iowa in the Big Ten play 9 conference games annually. With a 12 game football schedule, this makes it difficult to have much wiggle room for other non-conference games away from the home stadium if you'd like to play 7 home games a season. Iowa athletic director Gary Barta has maintained that Iowa needs to play those 7 games in Kinnick Stadium each season for the athletic budget. Another reason is the impact to the Iowa City/Coralville region and the local businesses. Iowa can afford to have a year where they only play 6 home games. According to the USA Today database, Iowa brought in $105,969,545 in revenue in the 2014-15 school year. The local business aspect is where the money is difficult to monetize. Iowa State has done things differently and have played only 6 home games, including this season. If Iowa State can get away with it, certainly Iowa can with a larger revenue stream.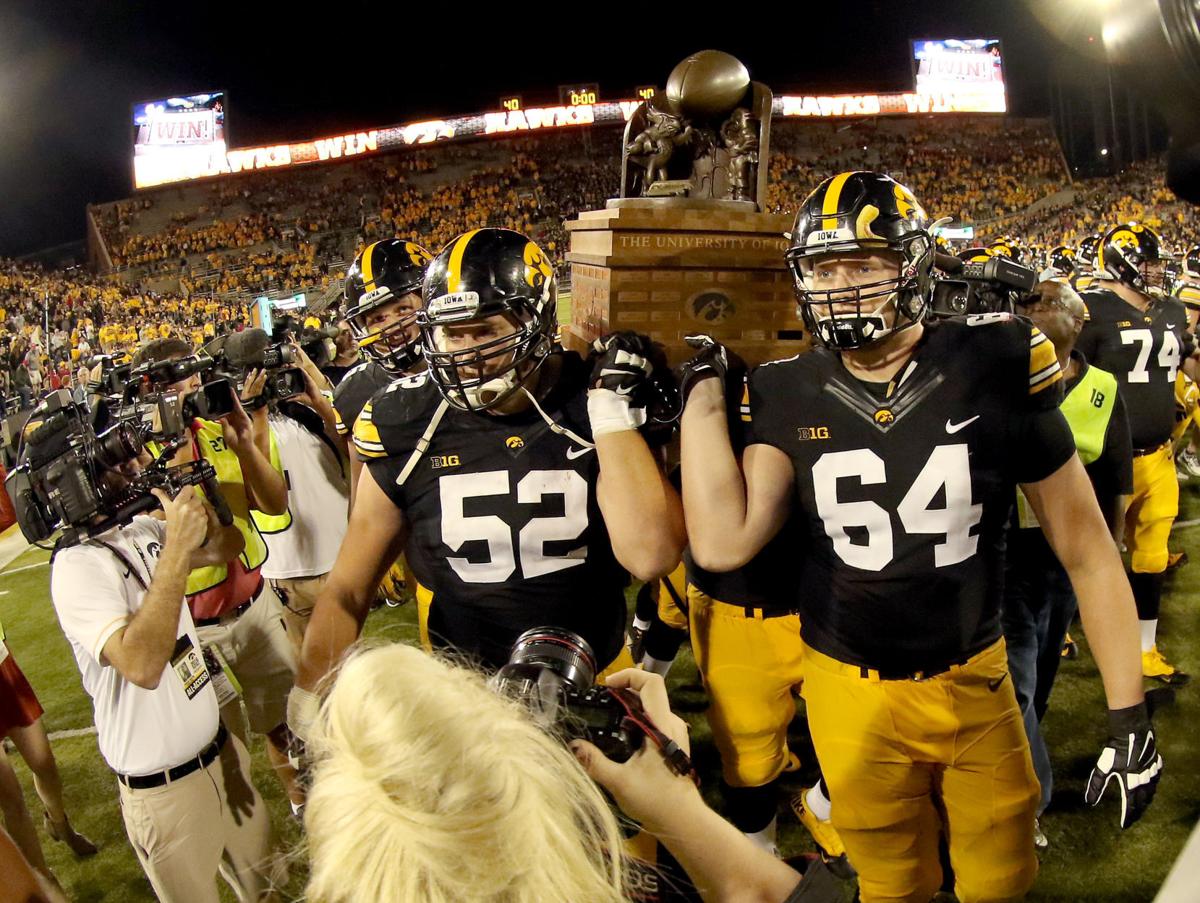 The landscape of college sports continues to evolve and what it will look like in 2024 is nearly impossible to understand. Who would have thought that Xavier and Creighton would be part of the Big East? That Rutgers and Maryland would be members of the Big Ten? What we do know is that the grant of rights for the Big 12 will be up in 2025 and the Big Ten TV deal will finish in 2023. The Big Ten could make a move towards Texas, Oklahoma and/or Kansas at that time to get to 16 members. If that's the case, what does it mean for the Big 12 and more importantly for Iowa State? That has to be a huge concern going forward for the Cyclone side.
But back to this series, as it is currently constructed. I propose a 2 year hiatus from the series after the completetion of the 2023 year. After 2 years off the schedule, Iowa and Iowa State sign a 4 year deal to play annually again, then another 2 years off. This allows the freedom for both schools to either find a home and home series with another Power 5 program, find a neutral site game to play or just schedule another "buy" for their home schedule. The series doesn't go away, it just has breaks.
In Central Iowa, their isn't anything bigger on the sports landscape than the Cy-Hawk game. It gets week long build up, it is THE topic for the whole week. But that isn't the case in Eastern Iowa. I lived in Eastern Iowa for 7 years and though it is still a rivalry, it doesn't burn as hot over there. It's the reality of the situation. Another reality is that Iowa State has been hugely successful over Iowa over the past 2 decades. Without that aspect, I don't think you'd see the same number of Iowa fans hoping to move away from the series.
Their are many moving parts that will decide what the future of this rivalry is. If Iowa can build momentum to become a bigger national brand, they could decide it's time to move away from the series completely. What is conference expansion pillages the heavyweights from the Big 12? Would a home and home series make sense with a school that is no longer in a "major" conference? Does Matt Campbell turn Iowa State into a consistent winner that has a bigger national profile and has the game gain more national prominence? These are questions to ponder going forward. What we do know if the game will go on for 7 more years. From there, it's anybodies guess.
http://www.martyandmiller.com/wp-content/uploads/2017/04/CY-Hawk_rivalry_logo.png
174
220
Trent Condon
http://www.martyandmiller.com/wp-content/uploads/2017/04/logonewmnm.png
Trent Condon
2017-04-20 11:54:43
2017-04-20 11:54:43
The Future of the Iowa/Iowa State Football Rivalry